Hanging Art System for the Home
Having art in your home is important for a lot of reasons, and STAS understands that. Art helps create a mood in your home. A recent
study
out of the Laboratory of Neurobiology at the University College London, found that viewing art stimulates the brain and triggers the same feelings as falling in love. Art can help you personalize your home, express personal tastes, and relive the memories of when a piece was made or purchased. Throughout your home there may be a large variety of items to hang on the wall – from small family photographs or children's finger paintings to large oil paintings in heavy, old-fashioned frames which might have been passed down through the family. Once you've found the perfect piece of art, whatever it may be, you need to think about where and how to best display it...and that's where we come in.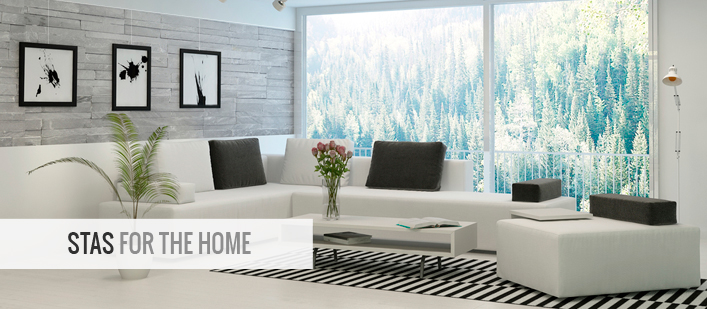 What are your options?
Interior design styles vary from home to home, as its you and your families personal taste. The choice of style for a hanging system for the home also comes down to personal taste. Sure, you can hammer nails into your wall, or try those flimsy double-sided tape things, but these often create more problems than they solve. Nails create holes that require patching later, and are a hassle when adjustments are needed. Those sticky removable hooks sound great until they peel the paint off...time to repaint! No picture hanging system will give you the flexibility, security, and support as a STAS Hanging System.


Picture Hanging Systems - Homes

A Perfect Art Hanging Solution for Homes

With a STAS system you have unrivaled flexibility when it comes to hanging things on the wall. With multiple styles available, our systems will compliment everything from ultra-modern styles homes to craftsman's, mid-century modern to cape cods. Our functional art hanging systems look great and offer unrivaled flexibility. You can easily add or remove a piece with little to no fuss. Tired of the stately oil painting over the fireplace? Replace it with a collage of finger paintings from a child or loved one in minutes! STAS Picture Hanging systems allow you to safely and securely hang everything from fine art to quilts, and the flexibility to quickly take it down and re-decorate in minutes.

STAS picture hanging systems make all this possible, plus all of our picture rails can be painted to match your current home style. If you're looking for an art hanging solution for your existing home and want something simple and discrete, check out our minirail. If you're thinking about touching up a room with crown molding the prorail crown or multirail crown which integrate directly would be ideal. If you have heavy pieces or looking for something to help storage in the garage, check out the j-rail Max which can hold up to 220lbs/yard.



Stas New Building, Existing Structure & Conversions





New Construction or Remodels

For new constructions or remodels, ask your designer or architect to include one or more STAS Picture Hanging systems at the design stage. Doing this will give you unrivaled flexibility in the system you choose. For example, the STAS plaster rail is built INTO the wall, under the surface of the plaster. Depending on your unique requirements STAS has a system for you, and every STAS system has one thing in common - once the system is in place, banging nails in walls becomes a thing of the past!








Don't Forget Lighting!
Another advantage over nails or other methods of hanging pictures, and extremely important when talking about fine art is having the appropriate lighting. STAS offers several art lighting systems that integrate directly with rails allowing you to quickly hang and effectively light your art in one simple step.
Long Term Benefits
Long-term benefits of STAS systems include greatly reduced costs over the years (saving on redecorating, painting, plastering and associated liquids, cleaning fluids, paints, plaster etc.), plus zero maintenance cost, zero impact on wall structure once the system has been installed (i.e. no more hanging pictures with nails!) and no need to call the Plumber to check out if there's a pipe hidden in the wall, or after you've banged a nail into the wall and found that that's where the pipe is!

---
We're here to help
Each rail system has been uniquely designed to perform a specific function or to resolve a particular issue. Although one solution may seem a perfect fit for your needs that may not necessarily be the case unless every issue has been presented and fully discussed. Our staff has the knowledge and understanding of what are the most important questions to ask when choosing the right system for you. By clicking below and submitting your requests one of our specialists will help you in choosing which system will provide the most satisfaction.