The NEW SHADES miniTRACK system - pure elegance in a small package. our thinnest yet most functional picture hanging system.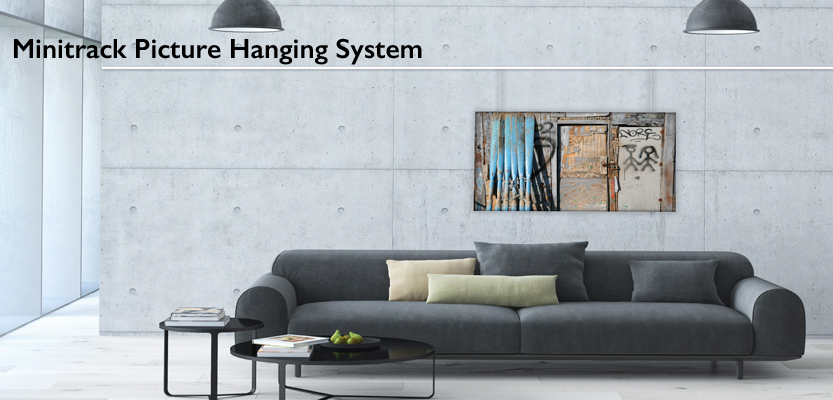 The Minitrack has become our most popular track system as it combines the elegance of all our systems in one small package. If you want an elegant, barely visible hanging system, the SHADES MINITRACK system is your best selection.

The SHADES Minitrack system is very easy to install and operate. Sustains weights up to 45 lb/yd. This track can be used in situations requiring a more discreet form of hanging system. Because of it's unique direct bottom insert feature with the Twist-to-Lock cords and cables this rail as well as any of our track system rails can be completely hidden underneath a wall crown molding or ceiling molding.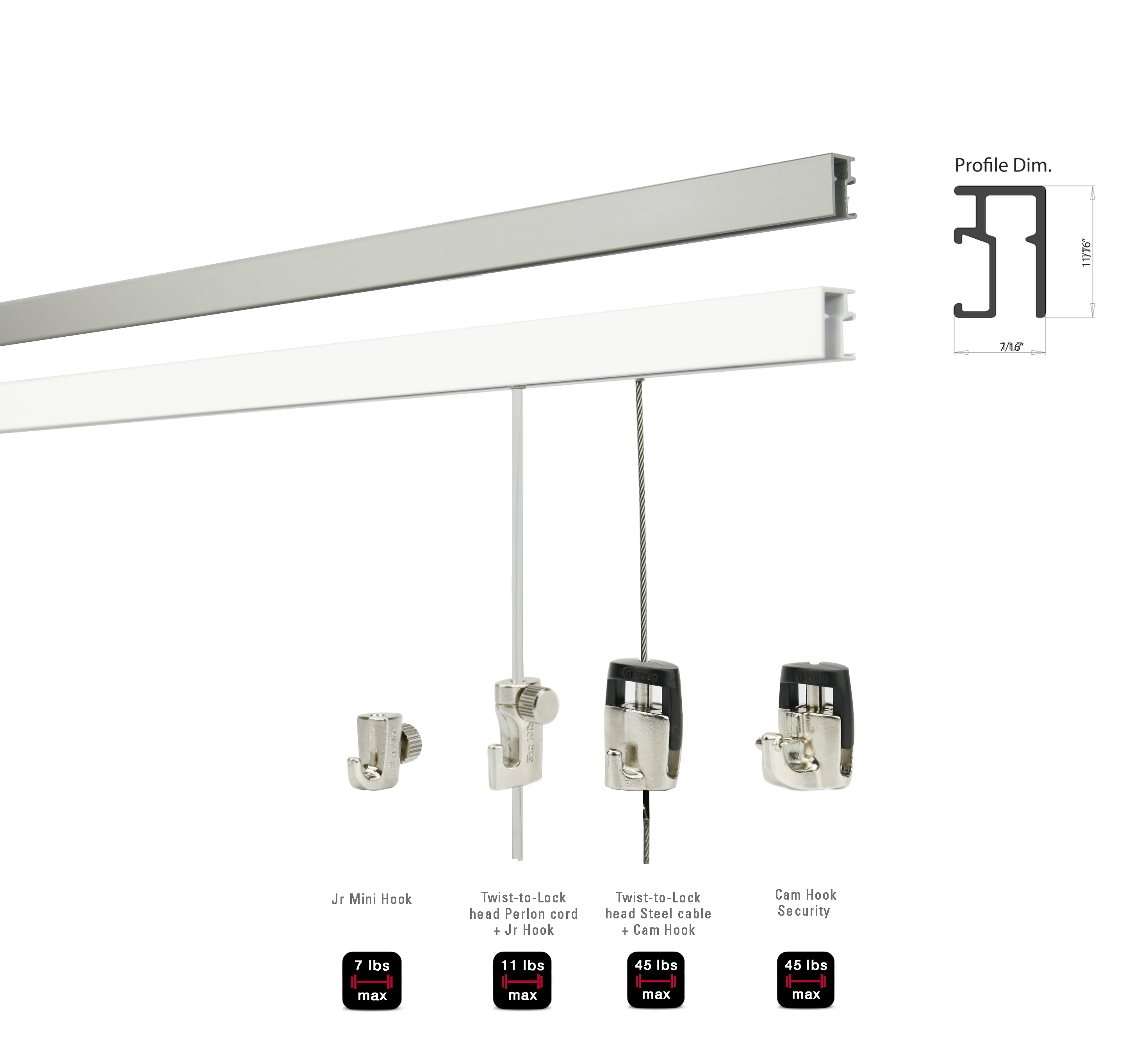 Specifications:
Weight capacity: 50 lbs per yard
Colors: Matte Silver or White (matte white is ready for paint if desired. No prepping involved)
Track Lengths: 59 1/16" and 78 3/4"
Profile Dimensions: 7/16" x 11/16"
Features:

Quick Clip Track/Rail mount clip and connector for effortless installation. Push in and the track mounts effortlessly. Can be used both as a Quick Clip and track-to-track connector to join two or more rails seamlessly on one wall.
Seamless transition from wall as it installs flush to ceiling.
Compatible with Twist-to-Lock perlon cords and steel cables. Twist-to-lock heads hide completely inside track lending a very clean finished look.
The Minitrack rail system and accompanying Twist-to-lock head on perlon and steel cables has been well received by architects and interior designers for its functionality and clean linear looks. Contractors and installers love this system for its superior weight capacity and effortless installation. No more need to pound into the clips to lock into place, just a simple easy push to mount.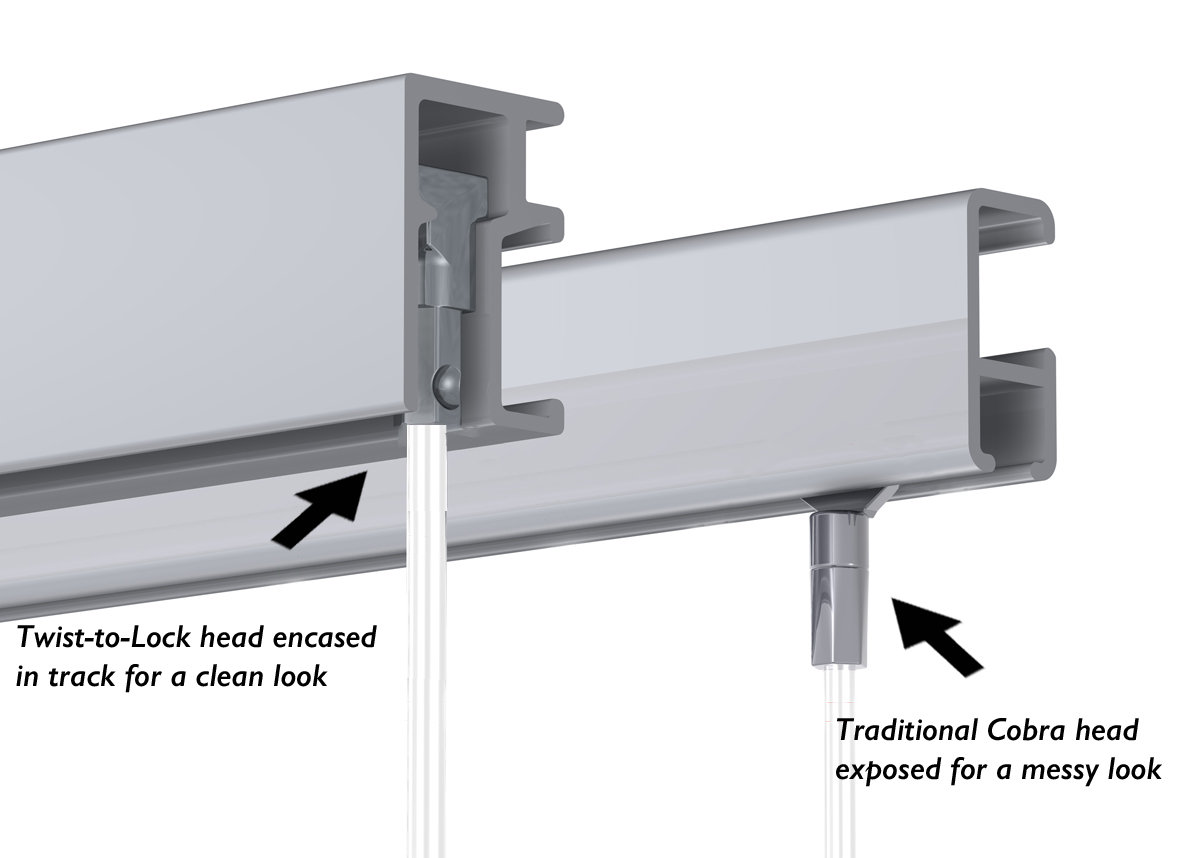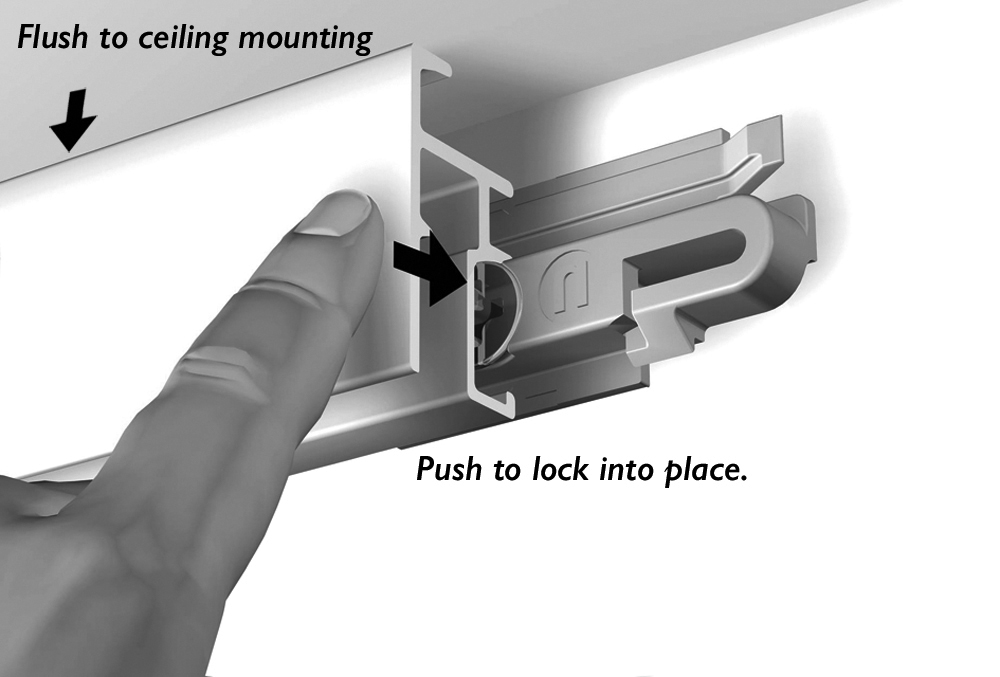 Applications:



Whether at home or at work, the Minitrack has all the necessary components to give your walls what they need to look their best. With our Quick Clip technology installations are fast and easy. No more strenuously forcing your rails onto tight fitting round clips, just push until your hear the "click" and you're done. Less time on installation means more time to apply your creative talents in what matter most...Beautiful, inspiring wall creations.


All types of walls - Hard walls, soft walls, Drywalls, stone or brick walls
Offices - Private or public, large or small
Government Institutions
Museums and Galleries
Healthcare Facilities
Education - From Pre-school to Universities



Hooks and Cords/Cables:



The following hooks and cords can be used in combination with this picture hanging system:

How to Order:



To order a complete hanging system, follow these easy steps:


Specify the number of tracks, length of tracks, and the desired track color. The installation kit contains all necessary hardware including Quick Clips, anchors/plugs and screws and hole guide template for a effortless mounting experience.
Order the necessary end caps to finish each track extremity and any corner caps. Choose the number of end caps (one for every rail end) and corner caps (one for every corner) according to your wall configuration.
For any wall configuration that requires two tracks or more we recommend adding one Quick Clip per connection. This creates a seamless transition from one rail to the next by holding both track ends level and tight together.
Finally, choose your desired hooks and Twist-to-Lock cords or cables.
Videos: