The shades combitrack picture rail system - just as the name implies it is the only system on the market that combines a "J" type PRO gallery system with a standard channel system giving you two excellent choices for the price OF one.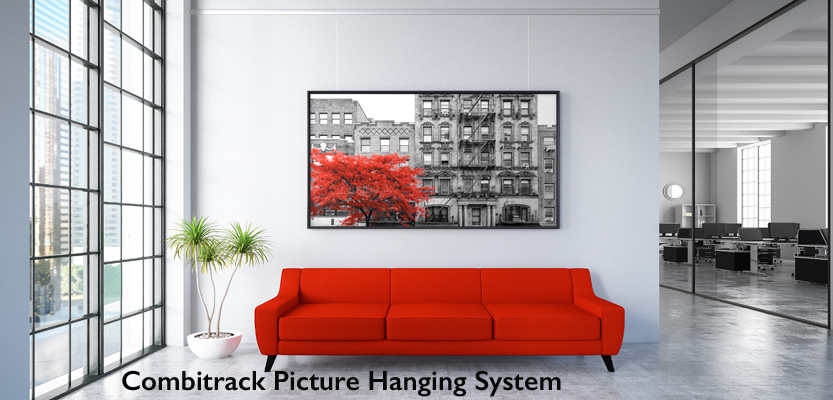 The SHADES Combitrack PRO picture rail hanging system features a dual track system with an over-the-top heavy-duty rail for loads of up to 110 pounds per linear yard and an under channel system for loads up to 70 lbs.

The flexibility of this track allows you to hang artworks of various weights without having to change the rail type. We've constructed this rail similar to our Clicktrack system with an under channel rail compartment and then added an over-the-top gallery hanging track that permits greater weight capacity due to the 4x4 rods that can be hung from the top of the track. All this while still maintaining a sleek, slender and truly elegant rail profile which looks very attractive in living rooms as well as in professional settings such as a Gallery or Museum.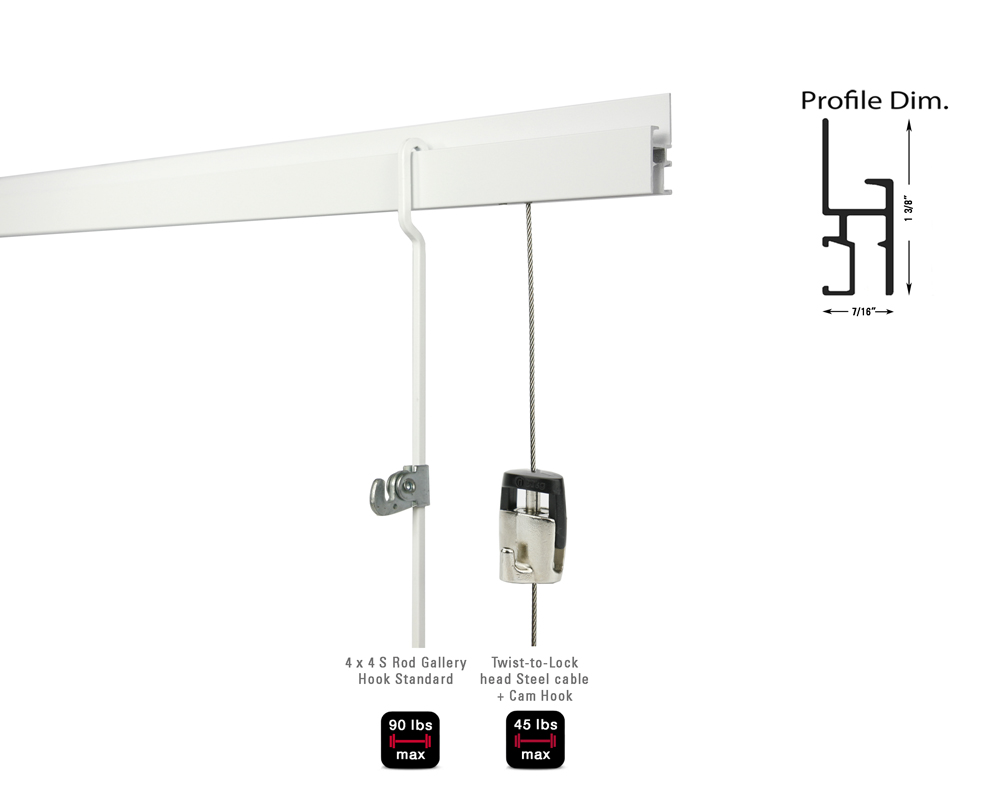 Specifications:
Weight capacity: 110 lb per yard on "S" style gallery 4x4mm rods and 70 lbs on channel track below
Colors: White (matte white is ready for paint if desired. No prepping involved)
Track Lengths: 59 1/16" and 78 3/4"
Profile Dimensions: 7/16" x 1 3/8"
Features:

Dual track picture hanging system combining an under channel track for light weight frames and a Gallery track or rail system for heavier artwork. All in one track. No need to have two different tracks.

Quick Clip Track/Rail mount clip and connector for effortless installation. Push in and the track mounts effortlessly. Can be used both as a Quick Clip and track-to-track connector to join two or more rails seamlessly on one wall.
Seamless transition from wall as it installs flush to ceiling.
Compatible with Twist-to-Lock perlon cords and steel cables for below channel application and/or 4x4mm Rods for above track installation. Our Twist-to-lock heads hide completely inside track lending a very clean finished look.
The 4x4mm rods which are also referred to as "S" rods can be combined with any of our gallery hooks depending on weight capacity required (See below for more details).
The Combitrack picture rail system is an excellent choice for those who are constantly dealing with various types, sizes and weights of artwork. So if you're in the business of having various types of artwork and don't want to have two different types of tracks or rails then this is the choice for you. Gallery and museums will surely appreciate this versatile dual system.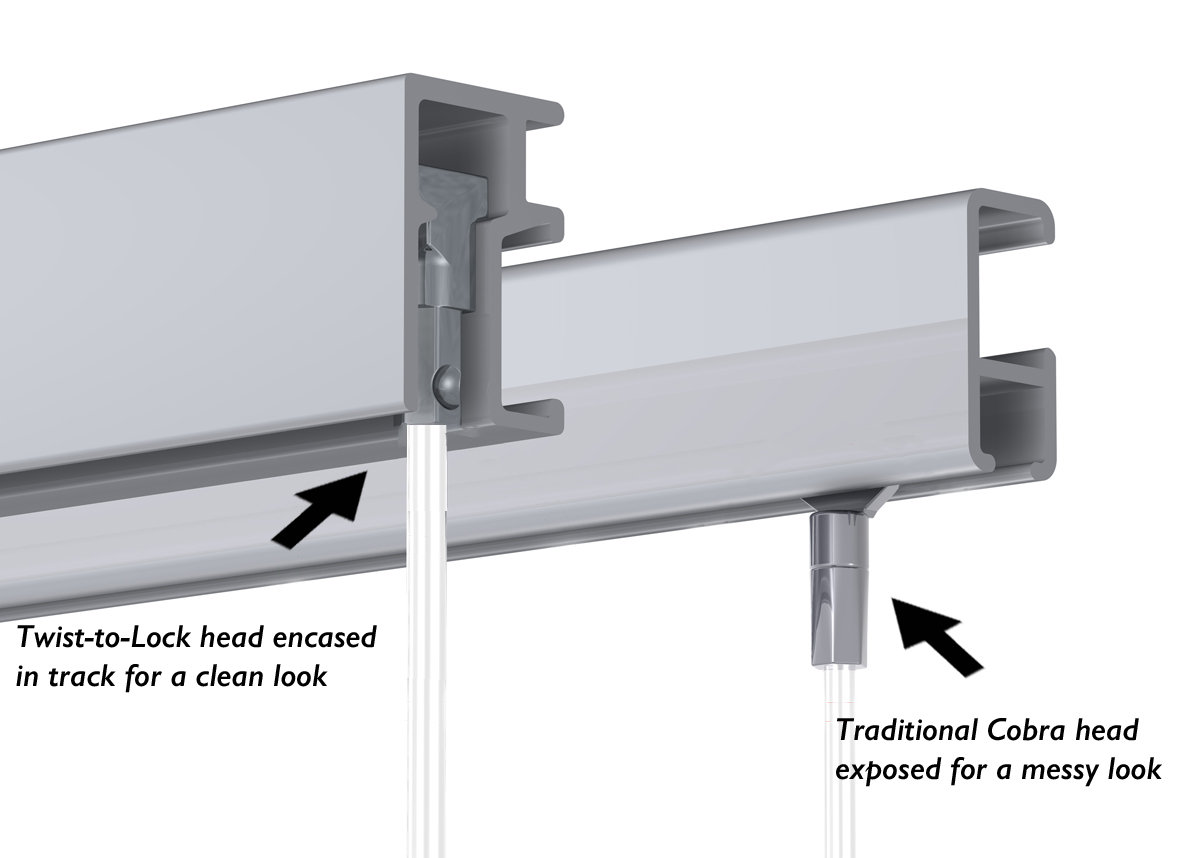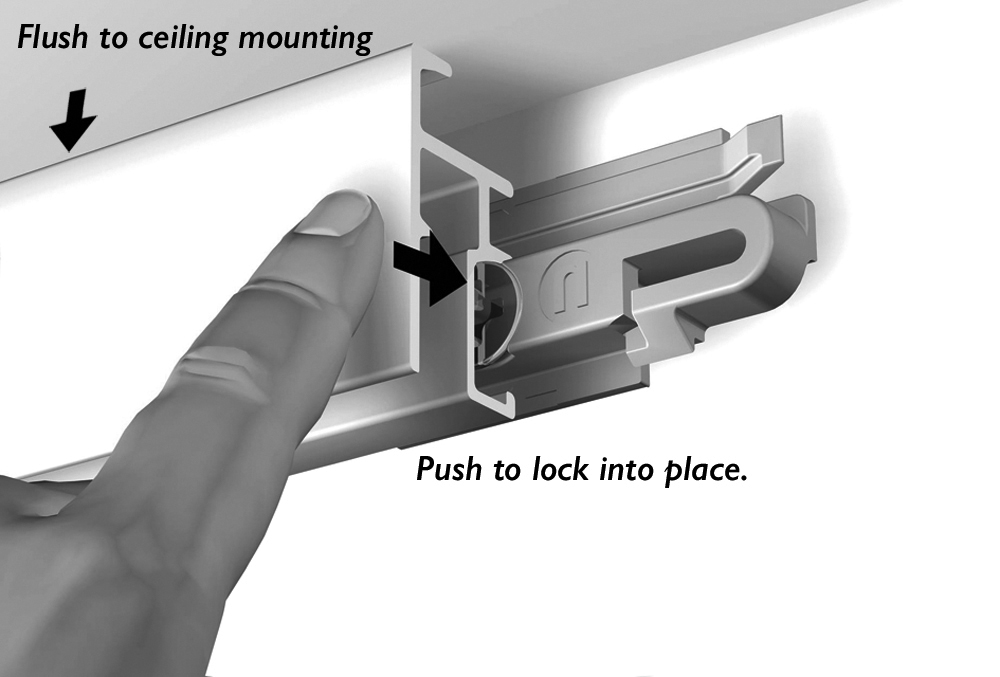 Applications:



Whether at home or at work, the Clicktrack has all the necessary components to give your walls what they need to look their best. With our Quick Clip technology installations are fast and easy. No more strenuously forcing your rails onto tight fitting round clips, just push until your hear the "click" and you're done. Less time on installation means more time to apply your creative talents in what matters most...Beautiful, inspiring wall creations.


All types of walls - Drywall (Sheetrock), plaster, plywood, concrete, stone or brick walls
Offices - Private or public, large or small
Government Institutions
Museums and Galleries
Healthcare Facilities
Education - From Pre-school to Universities



Hooks and Cords/Cables:



The following hooks and cords can be used in combination with this picture hanging system:

How to Order:



To order a complete hanging system, follow these easy steps:


Specify the number of tracks, length of tracks, and the desired track color. The installation kit contains all necessary hardware including Quick Clips, anchors/plugs and screws and hole guide template for a effortless mounting experience.
Order the necessary end caps to finish each track extremity and any corner caps. Choose the number of end caps (one for every rail end) and corner caps (one for every corner) according to your wall configuration.
For any wall configuration that requires two tracks or more we recommend adding one Quick Clip per connection. This creates a seamless transition from one rail to the next by holding both track ends level and tight together.
Videos: