SHADES INNOVATIVE SYSTEMS
As the world leader in Picture Hanging Systems, SHADES Picture Hanging Systems traces its lineage back to the Victorian era. During this period, homes were decorated in a very ornate fashion, many of which including plaster walls. If it wasn't plaster, walls were often decorated with high quality fabric. To protect the plaster walls from cracking or chipping with a nail, and or damaging fabric wall coverings, the ancestors of our modern picture hanging systems were created.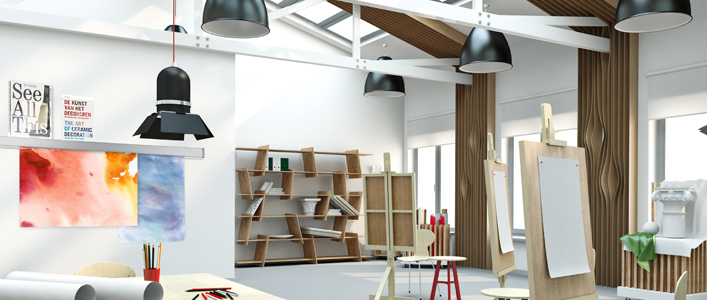 Picture Hanging Systems experienced a revival during the Craftsman era, with many designers and architects building them into their projects. Well known architect Frank Lloyd Wright was notorious for building picture rails into his designs. As recently as 2015, the usage of picture rails in a home in Wisconsin helped define it as a Frank Lloyd Wright Designed home. Many craftsman design homes to this day include built picture rails, making our picture molding hooks one of our top sellers.
Today, SHADES Picture Hanging Systems can be found in everything from residential homes to government institutions,hospitals, airports, universities, and everything in between.
These are all instances where the ease and flexibility of a SHADES Picture Hanging System come into play. Our systems also provide flexibility in what you hang on the wall. Ever tried to evenly hang a tryptic on the wall with nails? It's tough, and you most likely have holes to repair, but not with Shades. We carry a wide range of rails and hooks to accommodate heavy objects, 3 dimensional or sculptural objects, signage, lighting for fine art, and more. You can easily move, adjust, replace, and change your art and other objects in minutes.
Last, but absolutely not least, is that our picture rails make hanging objects on difficult surfaces or otherwise inaccessible walls suddenly a possibility! Decorating masonry, glass, or curved walls is simple with a hanging system installed. Masonry construction is common in K-12 Schools in the United States, and our hanging solutions make decorating a classroom easy and flexible. Glass walls are becoming increasingly popular in modern office spaces, and our ceiling mounted rails make the glass suddenly an open canvas for pictures, flip charts and more. A common use case we hear from our customers is also high-end wood finishes like executive offices and pocket doors. The cavity in the wall created by a pocket door eliminates nails as an option, but our system opens new possibilities.
Core Benefits of our Innovative Hanging Systems
Although there are many reasons to utilize a hanging system, the core benefits boil down to reduced maintenance cost, design freedom, and hanging objects on otherwise difficult spaces.
One of the most talked about benefits, a benefit that dates to the Victorian era, is the reduction in maintenance and repair costs. Once installed, our systems virtually eliminate repair costs associated with damages or repairs from hanging with traditional nails. These costs often make rental properties adopt a "No Art Hanging Policy", which is rarely followed. Instead owners are opting to install hanging systems, thus eliminating patching holes or repairing chipped plaster.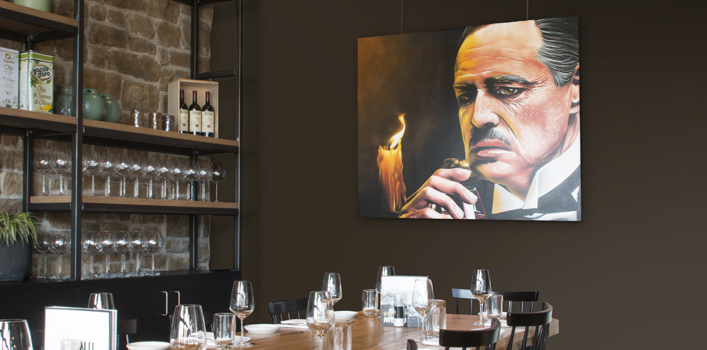 The second benefit, and our favorite, is design freedom. Our hanging systems help bring your interior spaces to life with engaging displays. When hanging art or other objects on the wall, whether in a home, office, or public space…change happens. Maybe you've moved furniture around your home and need to reposition art pieces, maybe your redecorating a classroom for the holidays, maybe your restaurant has updated its menu board, or maybe your office frequently updates employee or company notices.
The Basic Components of a SHADES Picture Hanging System
Our hanging systems are comprised of 3 main components: The Rail, Cord, Cable or Rod, and Hooks and Fittings.
The Rail or Track
This piece is the core component of the system that is mounted horizontally on the wall or ceiling. It supports the full weight of the hanging system and the objects being hung, and is how adjustments to the left or right are made. When selecting a track, consider: weight capacity, mounting location (Ceiling vs. wall), open vs. closed face, and discreteness.
The Cord, Cable or Rod
Hanging vertically from the picture rail are the second component piece which is the cord, cable or rod and are where vertical adjustments are made. SHADES offers Steel Cables, Perlon Cords, and solid rods, each having their own advantages and disadvantages. At the end of the cable, where it attaches to the rail, there are a few different options, including our exclusive Twist-to-Lock connection. Where other mounting pieces like bolts or loops require you to thread the cord in from one end of the track, sliding down to your desired location, Twist-to-Lock head allows you to pop the cord in wherever you like.
The Hook and Fittings
The final component is the hook or fitting that attaches the object being hung to the cable. These hooks are typically divided into two categories: manual and self-gripping. Self-gripping hooks utilizing the weight of the object being hung as leverage against the cord or cable. Although a bit more expensive than manual hooks, self-gripping hooks will pay dividends if used frequently and or in hard to reach areas like those accessed via a ladder. There are several specialty hooks as well including security hooks designed for galleries or earthquake prone areas, ensuring that what is hung on the wall…stays on the wall!
Innovative Market leader in Picture Hanging Systems
SHADES Picture Hanging Systems is the innovative market leader with over 20 patented products. Over the years our award shelf has grown as well! Our Cam Hook has been widely accepted as a design masterpiece as it encompasses strength and durability with functionality. The SHADES Twist-to-Lock system has also been classified as a most innovative product as it is the most recent innovative products in hanging solutions. We are constantly working to defend our position as innovative leader, so check out site frequently for new and exciting picture hanging systems and accessories.
---
We're here to help

Each rail system has been uniquely designed to perform a specific function or to resolve a particular issue. Although one solution may seem a perfect fit for your needs that may not necessarily be the case unless every issue has been presented and fully discussed. Our staff has the knowledge and understanding of what are the most important questions to ask when choosing the right system for you. By clicking below and submitting your requests one of our specialists will help you in choosing which system will provide the most satisfaction.